BlockFi has become the latest casualty following the collapse of the major cryptocurrency exchange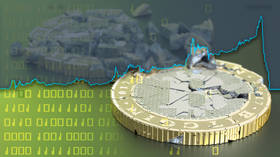 © Getty Images / MARK GARLICK/SCIENCE PHOTO LIBRARY
Leading cryptocurrency lender and financial services firm BlockFi filed for Chapter 11 bankruptcy protection on Monday, becoming the latest company in the industry affected by the collapse of major crypto exchange FTX.
In the filing with the US Bankruptcy Court for the District of New Jersey, the company said it had more than 100,000 creditors, with liabilities and assets ranging from $1 billion to $10 billion.
"BlockFi looks forward to a transparent process that achieves the best outcome for all clients and other stakeholders," stated Mark Renzi from Berkeley Research Group, which serves as BlockFi's financial adviser.
Read the rest at: https://www.rt.com/business/567334-ftx-crypto-bankrupt-blockfi/
Comment: By reading the comments in this post it is clear that the people are awake and aware; crypto is another fiat ponzi scheme backed by hot air; no different to the Federal Reserve System;