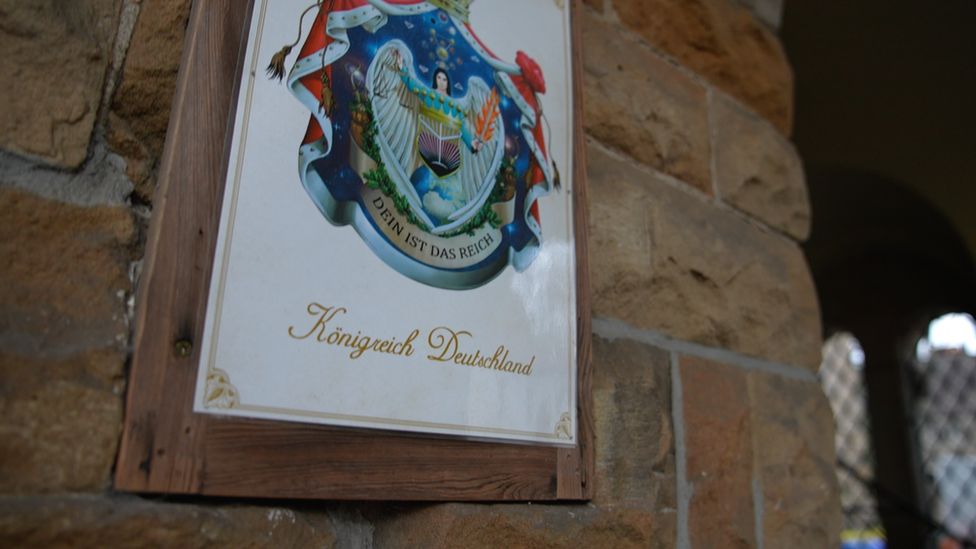 By Jenny Hill
BBC Berlin correspondent
In the depths of the countryside in eastern Germany, there's an invisible border.
The turrets of an imposing castle loom out of the treetops. A sign on its front door solemnly informs the visitor that they've entered – in effect – a new country.
The "Königreich Deutschland" (Kingdom of Germany) is a self-proclaimed independent state – complete with its own self-appointed king.
Peter the First, as he prefers to be known, receives us in a rather gloomy wood-panelled hall.
It's about a decade since his coronation – there was a ceremony, complete with orb and sceptre – and the foundation of his so-called kingdom, which mints its own money, prints its own ID cards and has its own flag.
He's what's known in Germany as a "Reichsbürger" (Citizen of the Reich), one of an estimated 21,000 people who are defined by the country's intelligence agencies as conspiracy theorists who don't recognise the legitimacy of the post-war German state.
They've risen to prominence this week, with the arrest of 25 people in raids on Reichsbürger suspected of plotting to storm the German parliament building, the Reichstag, in a violent overthrow of the government.
King Peter says he has no such violent intentions.
But he does believe the German state to be "destructive and sick".
Read the whole article here: https://www.bbc.com/news/world-europe-63916812