New Zealand 7:13 pm on 12 February 2022
The protest against the government's Covid-19 restrictions has persisted at Parliament today, despite a heavy downpour of rain.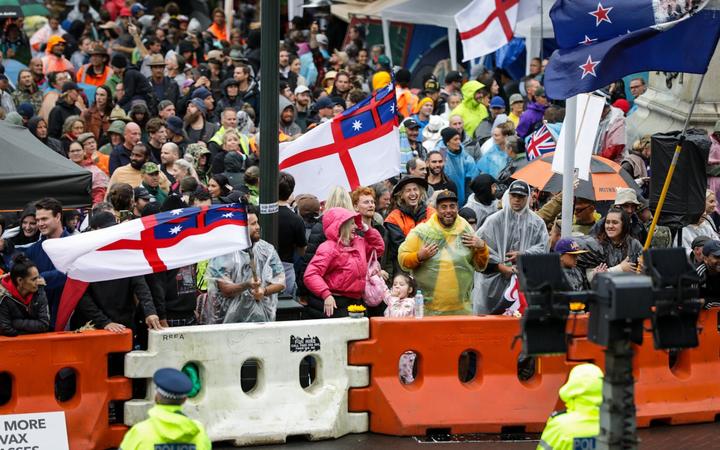 There is a battle of the speakers going on with music and Covid adverts being blasted from the parliamentary speakers and protesters responding with their own music. Photo: RNZ / Nate McKinnon
More people joined the crowd today, taking numbers up to about 1000.
Now under a sea of tents and umbrellas, the parliament lawn is beginning to resemble a monsoon-sodden marketplace.
A battle of the music speakers has started up at Parliament this evening as Speaker Trevor Mallard plays the likes of Barry Manilow and the Macarena through speakers inside Parliament buildings. He has also been playing Covid-19 vaccination advertisements.
Mallard said the 15-minute loop of music and Covid-19 ads will be on repeat and possibly play through the night.
Most of the protestors greeted the tunes with boos and played back We're Not Going to Take It by Twisted Sister on their own speakers.
Read more at: https://www.rnz.co.nz/news/alert-nat/461363/covid-19-protesters-persist-at-parliament-for-fifth-day