The Russian currency strengthens to a fresh seven-year high against the US dollar and the euro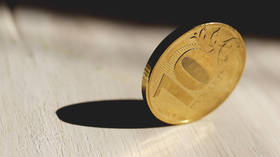 © Getty Images / Alexander Nedviga / 500px
The Russian ruble continued to strengthen on Tuesday, gaining over 1% against both the US dollar and the euro, trading data on the Moscow Exchange shows.
At the opening of the session, the dollar exchange fell below 55 rubles for the first time since June 30, 2015. The euro was also trading at a seven-year low against the Russian currency, below 58 rubles per euro.
The ruble is gaining strength against both of the globe's top reserve currencies ahead of large tax payments and high prices on commodity markets. Russian exporters sell foreign currency to pay taxes in rubles at the end of June. The peak is expected on June 27-28, and analysts predict the ruble will rally further in the coming week, strengthening to 50 rubles against the dollar and 55-56 against the euro.
Read further at: https://www.rt.com/business/557528-ruble-rally-euro-dollar/