Satu Insan - Malaysia
…this of course is not only peculiar to the US, but across the entire world where the central banks are printing useless paper, or fiat money if you prefer.
---
oftwominds
by Charles Hugh Smith
Destroying our ability to discover the real cost of assets, credit and risk has not just crippled the markets–it's crippled the entire economy.
Is anyone else fed up with the Federal Reserve? To paraphrase Irving Fisher's famous quote about the stock market just before it crashed in 1929, we've reached a permanently high plateau of Fed mismanagement, Fed worship and Fed failure.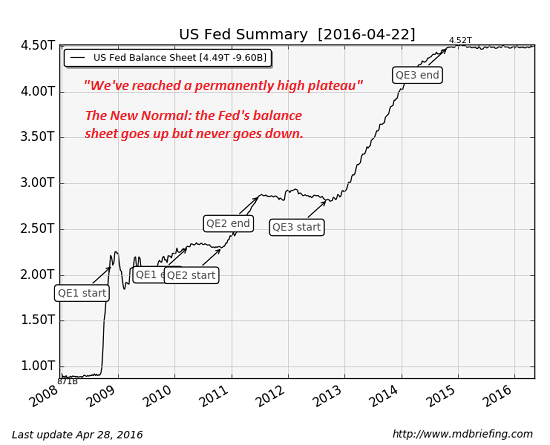 The only legitimate role for a central bank is to provide emergency liquidity in financial panics to creditworthy borrowers. Once the bad debt (credit extended to failed enterprises and uncreditworthy borrowers) is written off, the system resets as asset valuations adjust to reality–how ever unpleasant that might be for the credulous participants who believed…
View original post 503 more words